OBITUARY - HOWARD BURROWS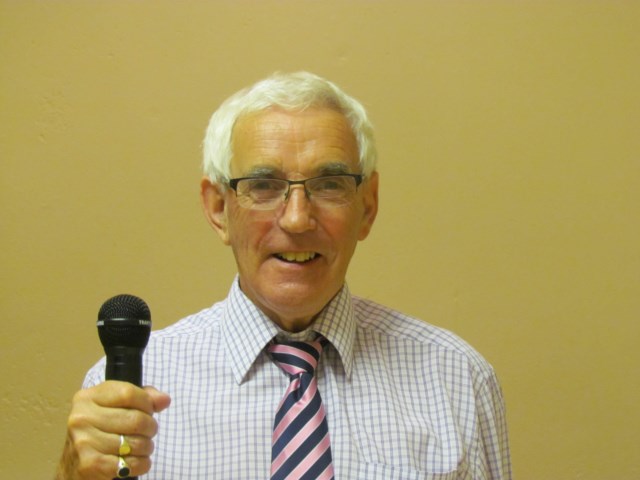 Howard joined Truro Folk Dance club in 1980 with his wife Margaret when invited to come along to the Royal British Legion in Truro. The club later moved to Kea Community Hall, Playing Place, Truro in 1990 and has continued there to date.
Howard started calling a few dances within the club and later called at public functions starting in 1993 with a charity dance in a garden in Playing Place, Truro. Howard found public and club calling very rewarding and look forward to every event, the planning stage as well as the function. Howard was a regular in house club caller and also called at private wedding parties, birthdays and many other social events within Cornwall.
Howard was elected honorary secretary in 1991 for Truro Folk Dance Club and held this position until his resignation in 2016 handing over to Carol Strevens. As secretary Howard organised our annual dinner dance, our club dances and the charity dances sponsored by the Truro Folk Dance Club arranging the booking of visiting bands and callers. Howard took over the running of the New Years Eve dance in 2001.
Howard passed away on 26th June 2022
NEW TRIAL ACOUSTIC MUSIC SESSION
At the Social Club, Fore Street, Lostwithiel, PL22 0BL on Friday 12th August 8:00 to 10:00pm
Arranged at the request of the Social Club. All styles welcome. Free Entry.
Contact Folk in Cornwall for more details.
FOLK ON THE MOOR PROGRAMME CHANGES
Please note the following changes to the Guest List published in issue 22 of Folk in Cornwall.

Winter Wilson will be appearing on 24th July, not the 17th.
The Lost Trades will be appearing on 9th October instead of The Demon Barbers.
The 23rd of October will be Singers Night instead of an appearance by Colum Sands
CORNWALL FOLK FESTIVAL - BETJEMAN SESSIONS
This year's Cornwall Folk Festival will see the return of its 'Betjeman Sessions'.

A late opportunity to showcase American songwriter Gretchen Peters in 2018 forced the organisers to run two simultaneous main concerts. This uncovered a bigger demand for live folk music than the town hall could accommodate. So was born the idea to run two main evening concerts, using the 80-seater John Betjeman Centre in Southern Way, Wadebridge, this year with four Cornwall-based acts.

On Friday 26th August, Angeline Morrison explores stories of black lives in the UK through folk songs. Steve Winchester opens the evening. He played a magical set at the festival's FAR Stage last year as part of its celebration of Harry Glasson, and paints lyrical pictures of life in North Cornwall.

On Sunday 28th legendary songwriter and performer Mike Silver talks and sings about fifty years on the road in "Past Imperfect: The Journey Between the Songs". An early signing to Elton John's Rocket Label, you will enjoy great stories and songs from this well-travelled and well-loved musician.

Mike is joined by Isyla, a young Cornish duo who sing powerful songs that merge pop and folk with a strong mission to respond musically to the climate crisis.

Each concert starts 7.30, (doors 6.45). £12 (£6 under 16s, free under 6). More details from www.cornwallfolkfestival.com
NEW IRREGULAR FOLK SESSION
At the New Inn, Tywardreath PL24 2QP on Sunday afternoons in the marquee in the pub garden
These are trial sessions held about once a month
Contact Folk in Cornwall for more details.
FOLK IN CORNWALL SUMMER 2022 ISSUE
Issue 22 is now out. Posted to clubs and subscribers on 27th June.

Please contact us if you would like some copies

The folk scene in Cornwall is coming back to life after the pandemic this year with many clubs, events and festivals planned for the summer.
CORNWALL FOLK FESTIVAL
Our very own Folk Festival is back and this year has a full programme. It runs in Wadebridge over the August Bank Holiday from Friday 26th to Monday 29th of August.

Some highlights are:

Friday 26th August: O'Hooley & Tidow + Du Glas (Town Hall); Angeline Morrison (Betjeman Centre)

Saturday 27th August: Dougie Maclean + Brother Sea Three.

Sunday 28th August: Merry Hell + Winter Wilson (Town Hall); Mike Silver with 'Past Imperfect: The Journey Between The Songs' (Betjeman Centre)

Monday 29th August: Granny's Attic + Handpicked

More details from www.cornwallfolkfestival.com
ST IVES SEPTEMBER FESTIVAL
Folk music is once again a central theme of this festival - another planning to have a full programme this year. For details see the advert and feature in issue 21 or visit: www.stivesseptemberfestival.co.uk
PENRYN OPEN MIC SESSION
At The Famous Barrel, Thomas Street, TR10 8JP on Thursday evenings. This is a long established 'open mic session'and jam run by Luke Clayton all styles welcome, register with Luke when you arrive. Information 07724 902576